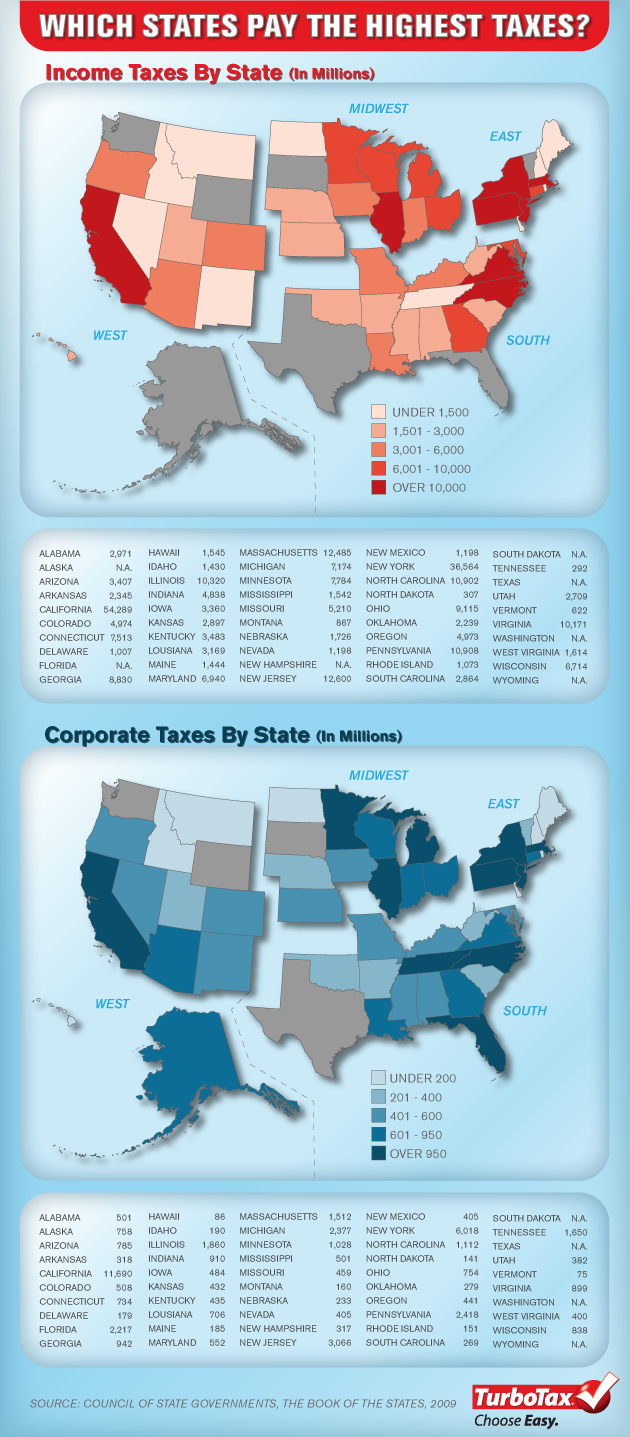 All states except Alaska, Delaware, Montana, New Hampshire and Oregon, collect sales taxes. Delaware collects a Gross Receipts Tax (GRT) which is a business and gross receipts tax that can total 2.07%. Some have a single rate throughout the state though most permit local city and county additions to the base tax rate. Those states with a single rate include Connecticut, District of Columbia, Indiana, Kentucky, Maine, Maryland, Massachusetts, Michigan, Mississippi, Rhode Island, and West Virginia.
States with the highest sales tax are: California (8.25%), Indiana (7%), Mississippi (7%), New Jersey (7%), Rhode Island (7%), Tennessee (7%), Minnesota (6.875%), Nevada (6.85%), Arizona (6.6%), Washington (6.5%), Kansas (6.3%), Texas and Illinois (6.25%).
Most states exempt prescription drugs from sales taxes. Some also exempt food and clothing purchases and a few also exempt non-prescription drugs.
Personal Income Tax
A total of 41 states impose income taxes. New Hampshire and Tennessee apply it only to income from interest and dividends. Seven states (Alaska, Florida, Nevada, South Dakota, Texas, Washington, and Wyoming) do not tax personal income. Of the 41 with a broad-based income tax, 35 base the taxes on federal returns, typically taking a portion of what you pay the IRS or using your federal adjusted gross income or taxable income as the starting point.( (Source:retirementliving)
This infographic was designed for QuickSprout.com. The infographic points out that there are 138 million tax payers in the U.S. and how complex the actual system is. In 1913, the tax code was 400 pages and today it is 70,320 pages. Another fun fact from the infographic: $2.5 trillion is paid in taxes per year. [Link]
Read On To Know the
100 highest tax-paying cities (by zip code) in the United States